I painted this last year.
Despite everyone's wonderful and uplifting compliments, I hated it.
When I told close friends or my husband about my real feelings toward the painting, I was reassured that it was beautiful and that I had done a great job.
But that didn't help. The fact that it was beautiful didn't make me love it.
Because that's all it was. Beautiful. There was literally nothing else about it that spoke to me. It was a painting of some trees in autumn. Woo. Hoo. Everyone paints stuff like this.
"Ochre Sunday" was meh, but "That Sweet Sunday Breeze?" Ahh! Give me more! Where is she going? What's her name? Who lives in the house with the blue door?
So what was the difference?
Story.
Most people who know me in real life, and maybe even a few of my online friends, know that during my entire 20s I was pursuing a writing career. While it, ultimately, didn't work out for me, I did wind up writing seven novels and several unfinished ones. Drafts. Short stories. Poems. You name it, I was immersed in words.
And I read! I read lots of books by amazing storytellers like Diana Wynne Jones and Lois Lowry.
I love stories.
An artistic piece depicting a forest is okay and all, but tell me a story within that piece and I will fall in love forever. Tell me about the witch who lives in the deep shadows beside an uprooted tree, or the hare family with the rare fox friend.
Tell me a story. Or, at the very least, give me the tools to create one of my own.
These are the things I need to remind myself when creating: Who is my character? What does she do? Love? Hate? Where is she and how does she interact with her environment?
I realize these sound like the beginnings of a book, but I am often fulfilled just by painting/drawing a single moment in a story, and then moving on to a new tale entirely.
I've been working on a piece lately, a bunny portrait (of course), and the goal is to have her standing/interacting among a flurry of yellow birds. I feel so inspired every time I look at even the bones of this piece. I'm thinking up her name and why the birds are flying around her and where she is and what her dreams/loves are. I want to give her a backstory and tell no one. I want to give her a future.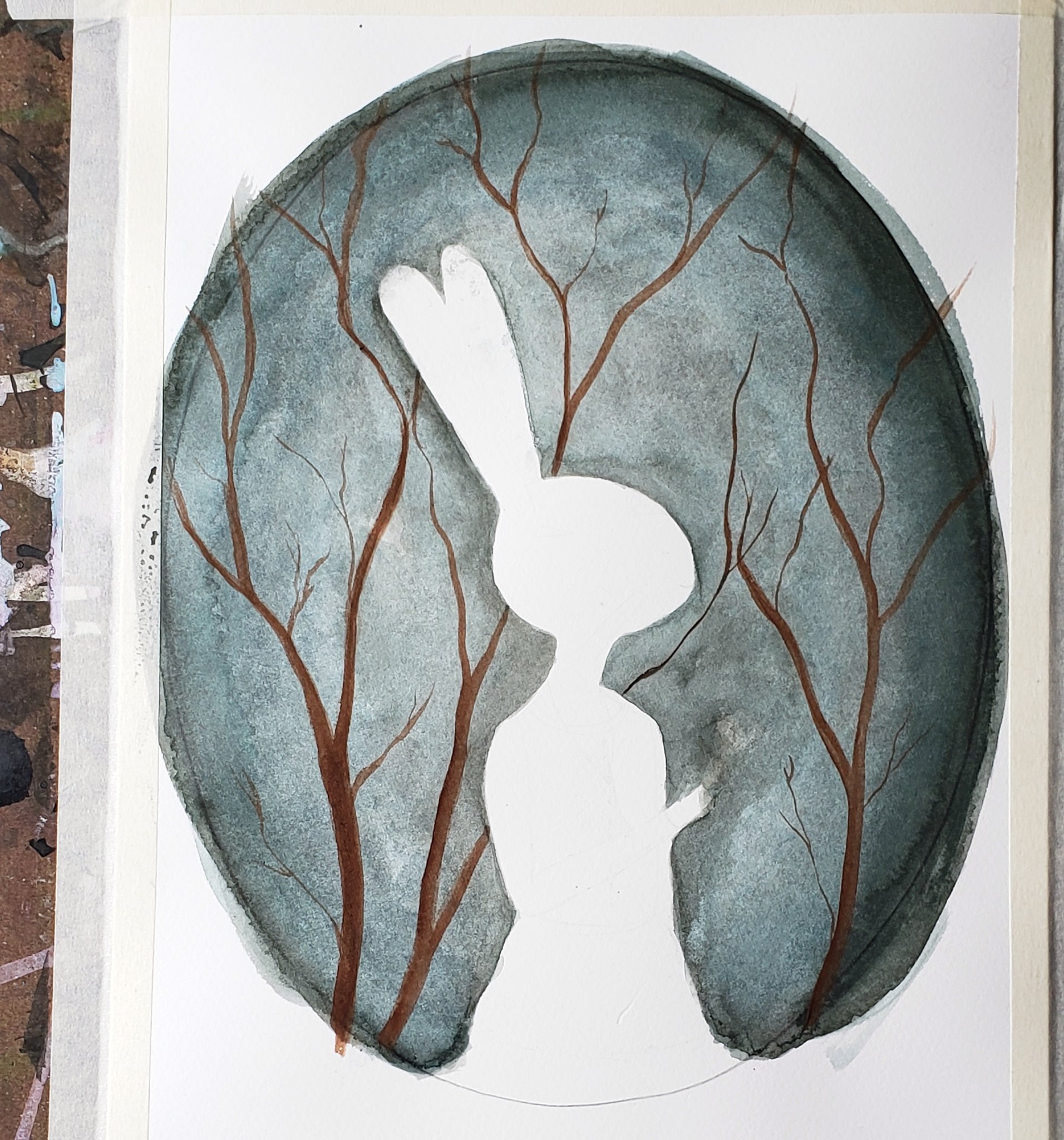 And as I paint her, I'm not afraid she will disappoint me. The only fear I have is that normal I might screw this up. But even if I do mess up, I will keep going. This bunny will be my breakthrough into allowing myself freedom to tell these snapshot-length fairytales.
Hi, I'm Lina. I'm that weirdo in the gallery wearing bunny earrings and pink chucks. No, I didn't paint that gorgeous mixed-media piece with the flowers and the forest. I actually drew the smaller one beside it, of a narwhal hot air balloon giving bunny children a tour above their town.
Let me tell you their story.